As the year (and decade) winds down, we took a look back at 2019 and picked our top five favorite trends in mobility, commuting, and TDM. The overall theme? Working together to make the decision to change from driving to an alternative form of commuting is an easier one. From designated micromobility parking to an increase in pre-tax paycheck deductions, we are recognizing efforts that made an immediate impact and set examples for future change.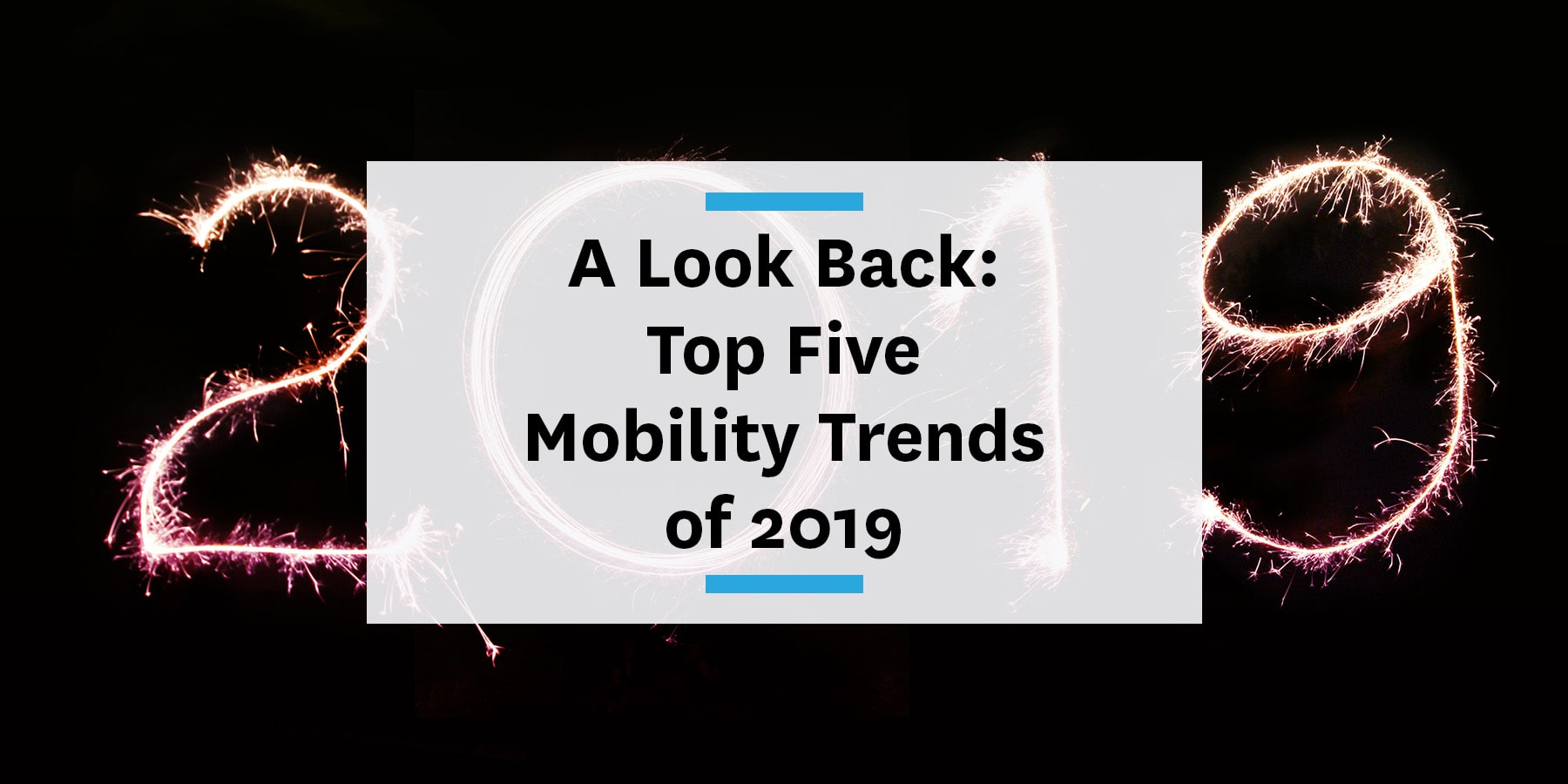 Dedicated bus lanes
It's no secret congestion and traffic times have risen over the past few years, and buses haven't been immune to these issues — until now. Local buses are the main form of transportation for a lot of city dwellers, and riders still have to sit in bumper-to-bumper traffic. That's all started to change, as more and more cities have started making bus-only lanes to make buses more efficient and desirable.
While this isn't a new concept, painting these lanes (usually red) has lowered trip times while creating buzz on social media. Washington, DC has made two dedicated bus lanes permanent after a three month trial period. On top of making these lanes permanent, the city changed the operating times from 7a.m. to 7p.m. Monday through Saturday – a significant increase from just morning and evening rush hours. Chicago and New York are among other major cities to implement these "red carpet" bus lanes.  
Car-free streets
To go alone with bus-only lanes, cities are starting to implement car bans on busy streets. San Francisco made national headlines this year by announcing a car ban on Market Street after a unanimous decision by SFMTA's board of directors and endorsements from the Mayor, small business owners, and, of course, bicycle associations. This $600 million projects will widen sidewalks and add continuous bike lanes — we love to see it! 
Earlier this year, New York banned cars entirely on 14th St. from 6 a.m. to 10 p.m and the results have been nothing short of amazing. The 14th St. buses have seen shorters trip times and increased ridership during the week and weekends. This is just one example of the change that can be made when mass transit is prioritized over cars!
Dockless mobility parking
The most common complaint about dockless mobility is the sidewalk congestion these vehicles could cause if riders leave bikes or scooters inconveniently parked, impeding the path of pedestrians. While scooter companies do their best to hold riders accountable by requiring pictures of parking locations, it's still an imperfect system.
To address these issues, companies and cities alike have made the effort in 2019 to create defined areas for newer mobility options on sidewalks. Cities including Santa Monica and Arlington, VA, have begun implementing mobility parking on streets and sidewalks around the city. These designated areas clear up the clutter and bring efficient transportation methods to a centralized location. 
In addition to designated parking areas, at least one scooter company began rolling out charging docks for their scooters in August 2019. Spin started working with corporate partners to place Spin Hubs at office buildings, starting in Washington, DC; Arlington, VA; and Tampa, FL. These hubs serve as both parking docks and charging stations for scooters. Not only do they keep things nice and tidy, they also reduce the need for scooters to be manually picked up and charged by contract workers. 
Scooter regulations
When scooters hit city streets a few years ago, local governments rushed to figure out how to regulate them. Cities have implemented pilot programs, speed limits, curfews, and other restrictions on scooters. In 2019, several cities awarded permits to limit the number of scooter companies that can operate. When a year-long scooter pilot ended this past October in San Francisco, the city award four permits – an increase from two during the pilot.
Since scooters first hit the DC streets, it seemed like any company that wanted to operate here could with no hesitation. At one point, there were upward of eight or so separate scooter companies spread across the four quadrants, with a large concentration in Northwest. In an attempt to regulate scooter use, the local government set a speed limit of 10 MPH on scooters, and just recently limited the amount of scooter operators to four companies – awarding permits to Skip, Spin, Jump, and Lyft.
Increase to pre-tax deductions
In January 2019, the IRS raised the pre-tax deduction for commuting to $265 – up from $260 in 2018. To make the decision to commute by way of public transit easier, the IRS is raising the pre-tax deduction amount again to $270 in 2020. These increases make it easier for both commuters and employers to save money, while encouraging the use of alternative and more sustainable forms of commuting.
A look back
As micromobilty options continue to hit the streets and companies make efforts to get their employees to change their commuting decisions, government agencies (at every level) need to make the save level of commitment to improve infrastructure. We saw most parties work together in 2019 to make significant strides in reducing drive-alone commute rates and we expect more cities to make efforts in 2020.