There is a major issue coming to light as companies return to the office. This concern is being coined 'carmageddon.' Carmageddon is the idea that as people start commuting again, everyone will opt to drive, overwhelming roadways, parking infrastructure, and the environment. As people start trickling back into the workplace, employers and property managers have the opportunity and responsibility to combat this issue before it becomes too big.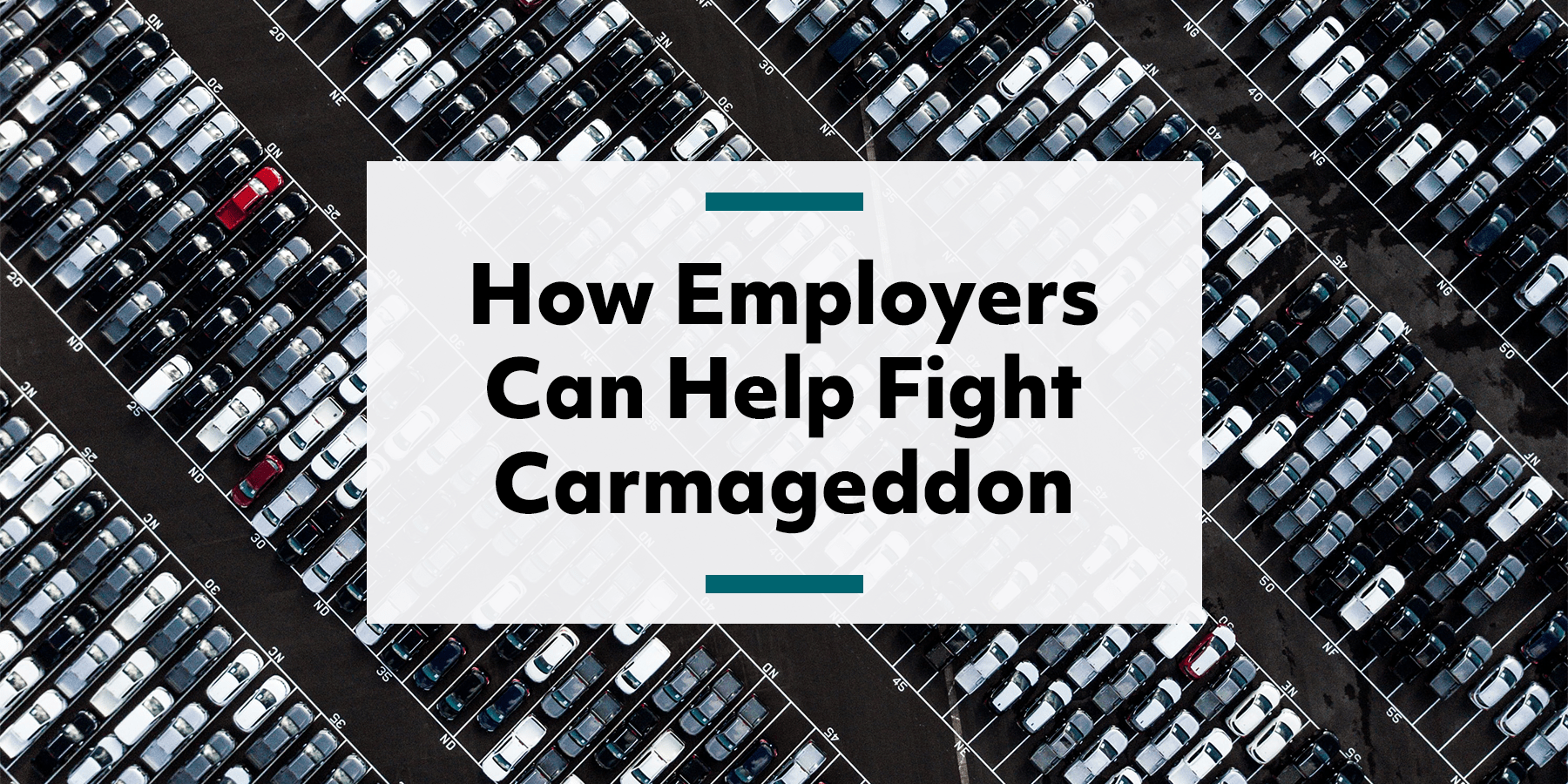 Happening now
Before the pandemic, most metropolitan areas were experiencing record-breaking traffic. When COVID hit, traffic levels subsided as a result of quarantine and work from home. Over the next few months though, overwhelming traffic and extended travel times could be returning in full force.
If you Google [city name + pre-pandmic traffic], you will most likely see stories about how daily traffic has returned. If you Google [city name + ridership levels], you will see a stark difference in the numbers and news. Traffic times are going up, while public transportation ridership levels are staying down. AKA we are knocking at the door of carmageddon. You may be asking yourself, "what can be done?" In this blog, we'll answer just that!
Invest in the end-of-trip experience
The end-of-trip experience is something that needs to be addressed and prioritized by employers. More specifically, the end-of-trip experience for non-drivers. When you have employees making the effort to use alternative forms of transit or mobility, they should be rewarded with, at the very least, basic accommodations.
Locker rooms and showers
During the warmer months, drivers have the luxury of pulling into a parking spot, getting out of their air conditioned car, and walking a few feet to the office. Non-drivers don't have such luxuries. Cycling or walking to work in the summer means sweat.
Having showers and locker rooms available for these commuters can make a huge difference in their day. They're able to clean themselves up, change out of their sweaty clothes, and store their belongings safely during the work day.
These accommodations are great for commuters who already walk or bike to work on a regular basis – and will continue to do so upon returning to the office. But having showers available can help encourage commuters who didn't walk or bike in the past. Employees are nearly 5 times more likely to bike to work if there are showers available once they arrive, according to a Virginia Tech study. That's a significant potential increase in cyclists, just by adding a shower or two.
Secure bike parking
Another investment that can increase the number of employees who bike to the office is secure bike parking. Once an employee arrives at the office, they need to put their bike somewhere. Sidewalk bike racks can be a suitable solution, but they can also be the source of anxiety for bikers.Hundreds or sometimes thousands of people passing by a bike left on a bike rack means there is ample opportunity for the bike to get stolen or damaged.
There are several ways to install bike parking at your office. One option is building a secure bike room. Think of a locker room for bikes. If you don't own the building, you will have to work with your property management to work on this solution.
Another option is converting a few parking spaces in your building's parking garage into bike parking. This is a win-win in the battle against carmageddon. You provide a space for your employees – and other commuters in your building – to store their bikes during the day. You also make the move toward discouraging driving by eliminating parking spaces. Again, this depends on your office situation and the process of working with your building's management team to get it done. But this requires a smaller lift than building a new room, or converting an existing room in the building.
If you need a quick solution, and there's limited opportunity with your building to make a permanent solution, you can use a room in your office. During the transition back to the office, there will probably be more space available in your company's office. Converting a conference room, or an area of the office for bike parking can be a quick and easy substitute. Your employees will know exactly where their bike is throughout the day as well.
NOTE: We say these solutions are for bicycles, but they also work for employees who own their own scooters as well.
Parking cash-out
Although employees are more inclined to choose a bike over a car if showers are available, some may require a little more incentive. That's where a parking cash-out program comes into play. Parking cash-out in its simplest form is paying your employees not to drive to the office alone.
In addition to reducing the number of drive-alone commuters in your company – and working against this carmageddon – parking cash-out can actually save your company money. Parking is a major expense. The average monthly parking spot in New York City is $570. That's the average. In Washington, DC, it's $250 per month. If you're subsidizing parking for your employees, that total adds up quickly. So how does parking cash-out save you money? Pay them a partial amount of the parking spot per month. If a parking spot is $250, pay them $200. Getting a cash bonus not to drive is a great incentive.
If you're looking for inspiration for starting a parking cash-out program, we suggest studying up on what Seattle Children's Hospital has done. With one of our favorite, and most comprehensive TDM plans, Seattle Children's Hospital is a leader in the space. They offer employees a $4 per day bonus for not driving to work. In addition to the cash bonus, the hospital also gives bikes to employees who agree to bike to work two or more days per week. Since they've implemented their TDM program, 9% of the hospital's workers bike to work, which is more than double the average for Seattle.
Carpooling
So what happens if you can't get bike parking implemented, or you're locked into parking leases for the time being? You can implement a carpool program. We know carpooling isn't a new principle, but working against carmageddon means taking cars off the road, and when people carpool, that's one to two cars taken off the road.
Just like a parking cash-out program, providing incentives to those who carpool can get the program moving. You can offer employees preferred parking spaces, gas cards, or even a cash bonus. When people feel they are being rewarded for a behavior change, they will be more likely to make the change.
Real-time transportation information
A low-hanging fruit for changing the commuting behavior of your employees is providing them with real-time transit information. The lift is super light and easy to implement. There's no infrastructure needed at your location, and there are options that won't break the bank either. Trust us, we should know!
When employees are privy to information about when the bus or metro is coming, before they leave for the office or for home, their commuting experience is instantly better. Over the next few months as many people exercise caution around public transit, providing tools that make them feel as supported as possible when using it, will be necessary.
For example, giving your employees access to real-time information will allow them to time exactly when to leave for their commute and minimize the time they spend waiting on a crowded platform. Not to toot our own horn, but we do that, plus more. Depending on your city and transit agency, we can also inform your commuters about the occupancy of the metro or bus, with crowding data.
Maybe public transit isn't in the cards for some due to safety concerns. Give them access to information about the closest bikeshare docks or even how close they are to electric scooters. If this sounds salesy, that's because it is. But only because we provide tools that can remove some major commuter pain points and help alleviate some of the current anxieties that come with this uncertain time.
Avoid carmageddon
We apologize for the sales pitch, but it comes from the passion we have for creating a better commuting experience for everyone. What it comes down to is encouraging your commuters not to drive to the office alone when your company returns to the office.
The current road and parking infrastructure can't handle more cars, the environment certainly can't handle more cars, and your employees' mental health doesn't need to be worsened by sitting in rush hour traffic again. There are tools available to improve the commuting experience, it's time you take advantage of them!