In this day and age, making sure your apartment building stands apart from hundreds of others in the same city is a must. Each amenity has to top the last to improve your resident experience. While some are nice-to-haves, others are more necessity than a bonus.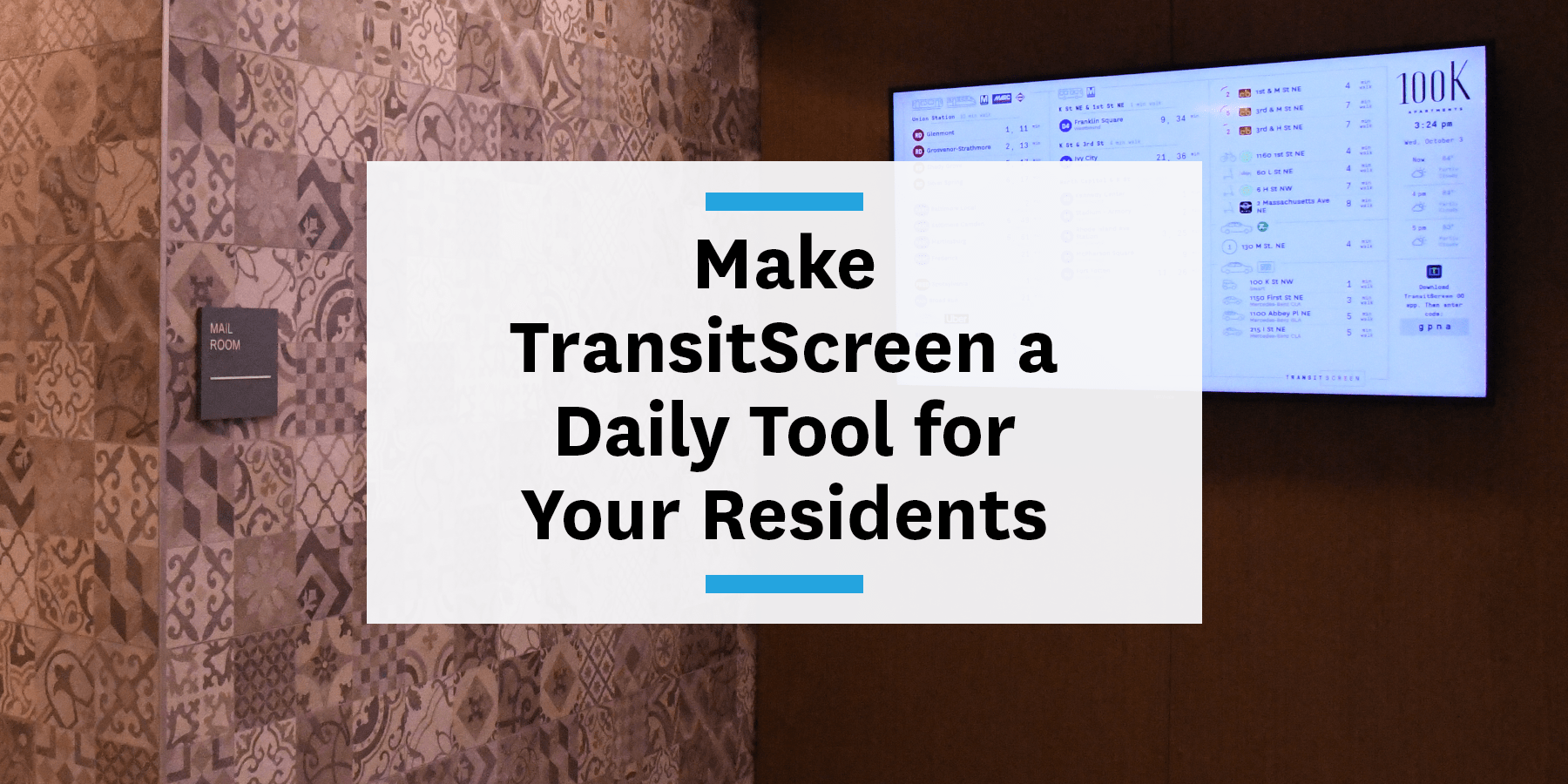 TransitScreen provides both elegance and utility to residents. To make sure you can get the maximum ROI from us, make them a true destination within your building.
Placement
The first step in making your TransitScreen a real destination starts with where you place it. If it's hidden in some corner of your lobby, in the mailroom, or behind the front desk, chances are your residents won't pay attention to it.
A great, high-visibility location is right next to the elevators. You have the opportunity to reach residents as they are leaving for the day. Even if they have decided how they're going to commute, knowing when the next bus or train is coming gives them time back for other tasks. They can get a quick breakfast, grab a coffee, or simply take their time getting to the bus stop. Another option to achieve a similar effect is next to the front doors of the building..
Messaging and information
Using your TransitScreen as a messaging hub for important building information can lead to your screen becoming a consistent stop for your residents. You can display building events, upcoming maintenance, and, in the current situation, safety guidelines and procedures. As residents become more accustomed to receiving information from the TransitScreen, they will become conditioned to check it more often.
You can also use the Nearby feature to highlight local attractions, restaurants, and shopping to your residents. Currently, restaurants and retail stores have modified hours of operation, and not everyone will be up-to-date on these changes.
The primary purpose of a TransitScreen is to display up-to-the-minute transit and mobility information. But that's not the only function it has – or should have. We want to ensure our customers (you) are using our product to its fullest potential in order to give your customers (residents) the best experience possible.
In-home information
Extending the visibility of your screen further than just your lobby will improve your resident experience as well. CityMotion, our mobile app, gives your residents the power and information of your screen in the palm of their hands.
Our goal is to reach commuters before they leave for their commute. We know for large apartment buildings, the lobby offers the highest potential visibility of the screen. Reaching residents before they leave their apartment is the ideal situation. When someone is still in their apartment, and knows exactly when the bus is coming, or how many bikes are still at the bikeshare dock, they get even more time back in their day. CityMotion makes that possible.
Want to learn more about how TransitScreen and CityMotion can improve your resident experience? Connect with our team today!