We recently wrote about how you can turn your TransitScreen from a nice-to-have amenity into a daily tool for your residents. Providing top-of-the-line amenities is important to retain your residents, but the same goes for signing new residents.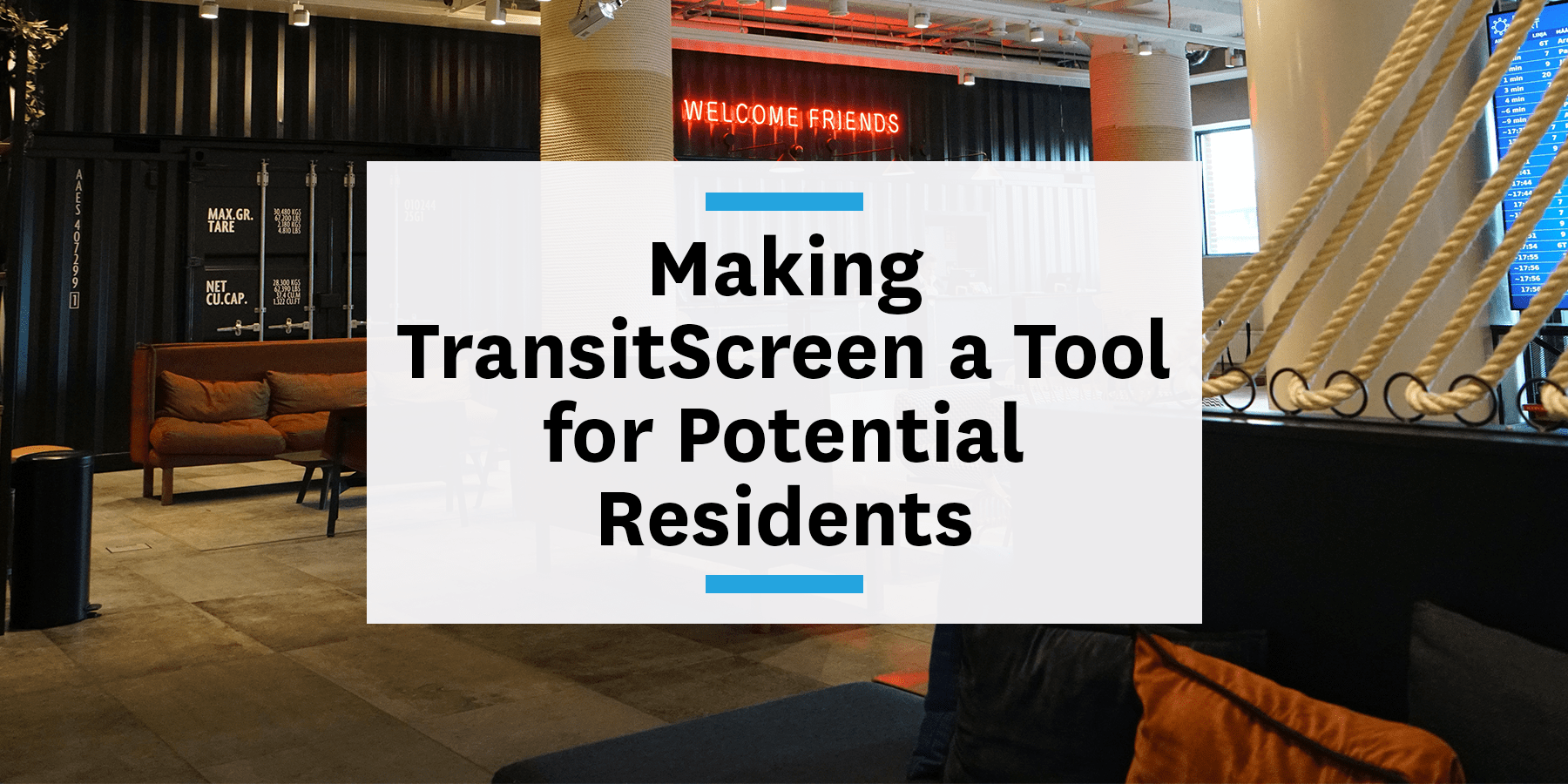 Using your TransitScreen effectively during leasing tours could be the difference between signing a new resident or not. This will also lead to residents using the TransitScreen more often once they move in, maximizing your ROI. It's a win-win!
Highlight your building
You can also highlight your building's activities and amenities with Messaging on your TransitScreen. Hosting events for your residents takes work, so you want to be able to effectively get the word out. You also want to show potential residents you offer community-based events and that your building is more than just a place to rest their head at night.
In addition to personalized messaging, our Nearby feature allows you to highlight surrounding attractions, restaurants, and nightlife. Location is a major factor when choosing a new place to live — so lean into that! You want to show you not only care for residents' lives within your building, but you can also provide them social advantages.
In fact, 58 percent of millennials believe apartments should provide amenities for the surrounding community, according to NMHC's 2018 Consumer Housing Insights Survey. Our Nearby feature highlights your building's involvement and integration in the community and city.
Personalization
Using the Messaging feature for tours can leave a strong impression. When someone comes in to see the building, and their name is on your TransitScreen, they automatically feel welcomed and acknowledged. It shows attention to detail, while highlighting TransitScreen as an amenity and a tool.
Aside from greeting them, you can show their commuting options before they move in. Moving to a new city, or just a new neighborhood, means learning a new commute. And anyone who has had to learn a new commute knows how stressful that process can be. Displaying real-time transit and mobility options eases that pain and stress, making a more comfortable experience and adding a necessary peace of mind.
Showing available transit and mobility is for more than just peace of mind. 66% of millennials say access to high quality transit is a top criteria when choosing where to live. Why not show them every transit and mobility option they have access to on their tour of the building?
Safety guidelines
Right now, safety concerns are heightened for everyone, especially residents. Living in a high-rise apartment building most likely means riding in an elevator. Current and potential residents want to know you're looking after them and their safety. Displaying safety guidelines you and your residents are following is an automatic plus. Not to toot our own horn, but that's where the Messaging feature can add more to your TransitScreen and your building as a whole.
TransitScreen
TransitScreen is more than just a screen, it's a tool and amenity for residents to use to make daily decisions. It's also a tool for property managers to make an impact on current and future residents by displaying information that's important and considered in decision-making processes.
Do you want to learn more about how TransitScreen can benefit you, your residents, and potential residents? Get in touch with our team today!