As companies and organizations continue to trickle back to the office, commercial real estate property managers have a major opportunity to make changes to their buildings. More specifically, they should look to adapt their buildings to accommodate for the mobility and infrastructure improvements that have taken place in their cities.
Now is the time for those in commercial real estate to embrace transportation demand management (TDM). We covered this topic quite a bit over the past few years and we're bringing it back. One major reason is because of the fear of "carmageddon." Carmageddon is the idea that as people start commuting again, everyone will opt to drive, overwhelming roadways, parking infrastructure, and the environment. But that's another topic for another time. Let's get back to TDM!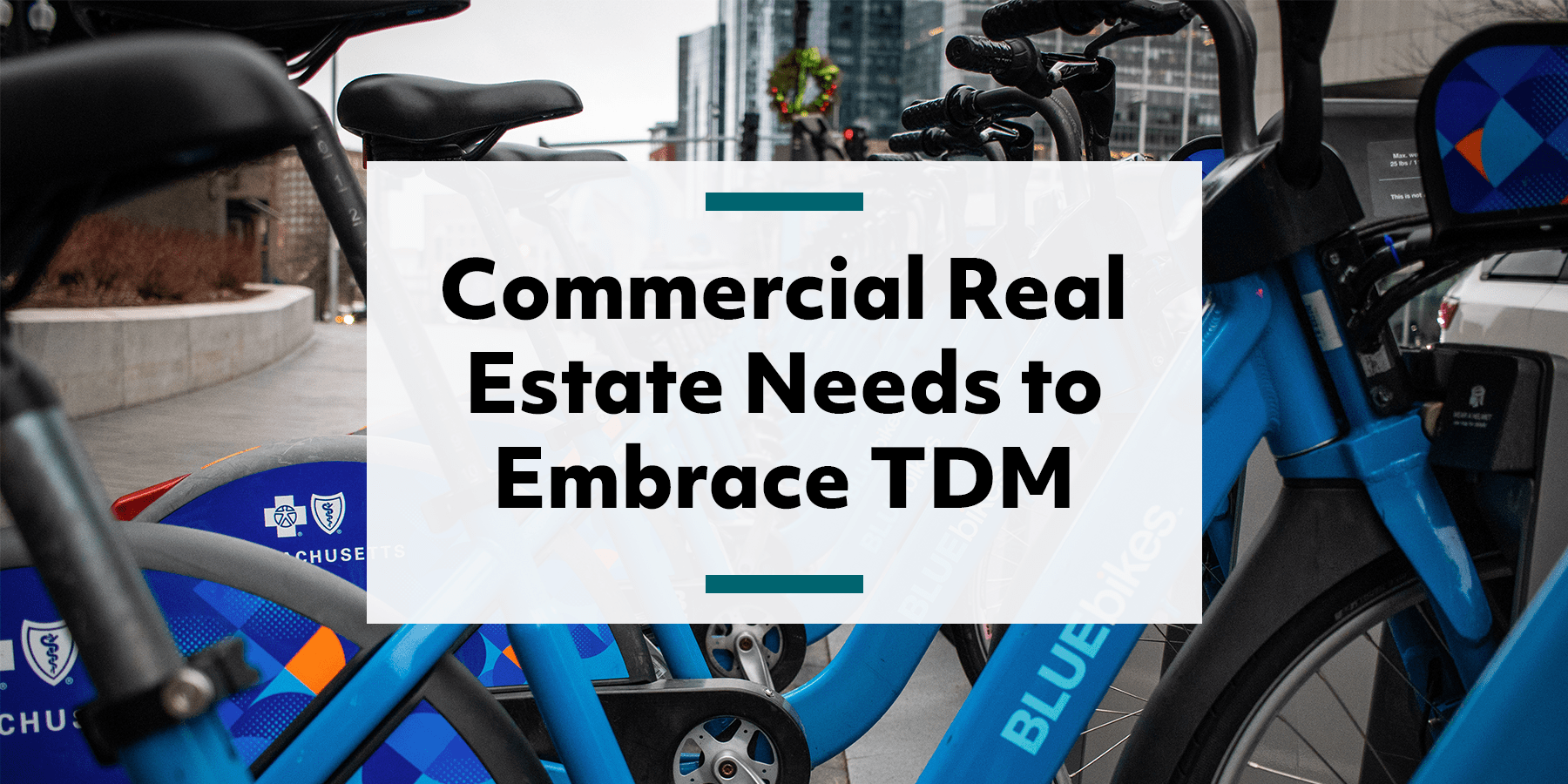 Transportation demand management
Before we get into what commercial real estate managers can and need to do now, let's cover what transportation demand management really is. TDM is a set of strategies employers, developers, and/or property managers put in place to create a behavioral change in an individual's commuting habits.
One example of a TDM measure is adding a secure bike room to your property. This falls into the TDM category because you're providing a tool that can lead to, or incentivizes, a behavior change. Your local government adding a secure bike lane in front of your building, on the other hand, would not be considered a TDM measure because that's an infrastructure change by your city. In short, TDM is how you make infrastructure improvements easier to use for your tenants.
Fresh start effect
In addition to TDM, there's another theory or principle that's currently at play. It's the fresh start effect. The fresh start effect is the belief that individuals can and will make a drastic change to their daily behavior after a life-altering experience or situation. In this context, the life-altering experience is COVID-19.
Because people weren't – and in some cases still aren't – commuting, there's an opportunity to create a real change in behavior as commuting begins to pick up. Aside from the fresh start effect, there are other factors supporting these changes.
Over the past year and a half, cities around the country have added more bike lanes to their streets, making it easier and safer than ever to adopt a bike commute. At the same time, bike sales have skyrocketed, up 62% in 2020 compared to 2019 – and that's excluding ebikes. With cities and individuals doing their part to make changes, it's pivotal for real estate to follow suit.
Office buildings
The way office buildings should approach TDM is different from how a multifamily property manager should approach TDM – and we'll cover multifamily after this.
End-of-trip experience
Right now, the average office occupancy rate is around 33% – give or take depending on the city – according to Kastle Systems. Since buildings aren't at full capacity, now is the time to make changes that will impact commuting and travel. Some of these changes need to be focused on the end-of-trip experience (EOT) for commuters. This means making the time between a commuter's arrival to the building and them getting to their desk as pleasant as possible.
A more simple improvement to make is secure bike and mobility parking. We're talking about secure rooms for commuters to store their bike or scooter, which is ideal. Dedicating a few parking spaces in the garage to mobility parking works too though.
Once secure bike and mobility parking is addressed, then comes personal storage and hygiene facilities. No one wants to get to their desk sweating from the bike ride or walk to work. Locker rooms and shower facilities make driving commuters five times more likely to change their commuting habits.
Other EOT improvements have to do with accurate communication and messaging. Regulations around masks and vaccines are changing based on local mandate, and building messaging needs to keep up. If tenants need to wear masks in public spaces, that needs to be made clear throughout the building. Similarly, if gym hours are changed, or policies are updated, that needs to be clearly advertised to tenants.
Beginning-of-trip experience
While the end-of-trip experience addresses when employees arrive at the office in the morning, the beginning-of-trip experience is when tenants leave the office for home in the evening. Working to improve the second leg of the commute journey means providing tools for tenants that make getting home from the office as easy as possible.
One of the most useful tools for the beginning of the trip home is real-time transportation information. Commute times and schedules are different from what they were before the start of the pandemic. That means commuters need to adapt to new commuting times and conditions, especially when it comes to public transit. Providing real-time transportation information helps tenants adjust to their new commuting schedules.
There is also a wariness around the levels of occupancy in public transportation. Although there is no evidence of widespread COVID-19 transmission on public transit, the concern still exists. Our screen and app provide crowding information (depending on the city) to give commuters the information they need to make the safest decision for them.
Our products also show the closest scooters to building and how many bikes are available at the closest bikeshare dock. One of the purposes of addressing the beginning-of-trip experience, is presenting all of the available commuting options for non-drivers. Our products aggregate that information in two comprehensive tools, our screen, and our app, CityMotion.
All in all
The reason transportation demand management exists is to lower drive-alone commute rates. At the moment, traffic conditions across the country are inching toward pre-pandemic numbers, but public transit ridership remains well below pre-pandemic levels. There need to be tools put in place to help mitigate these traffic conditions and promote more sustainable modes of commuting.